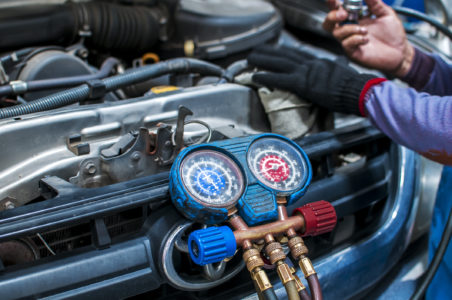 During the winter months, it can be easy to let some things fall by the way saying "I'll get to it in the spring".  When the weather warms, most of us will find ourselves at our local hardware store getting supplies to get the yard fixed up and doing spring cleaning inside.  If you're like most of us, it's not just the house that gets neglected during the winter months.  If we're honest, another thing we've let slide this winter is our vehicle maintenance.  When your floor mats are full of mud and the outside of your car is dirty it can be easy to neglect the regular car maintenance you should be performing, particularly items you may not use until warmer weather like your car's AC maintenance.
The most important regular car maintenance items you should be performing on your vehicle is oil changes.  This includes your engine oil as it needs to be changed most often, but don't forget about your transmission fluid and differential and transfer case oils if you have a rear or four-wheel drive vehicle.  Besides checking oil levels, you should check other fluid levels like your coolant level and washer fluid.  Once every 6 months, it's a good idea to visually inspect your engine bay and underside of your vehicle looking for worn components.  In the engine bay check for worn hoses and belts and underneath your vehicle check for worn suspension components, worn tires and evidence of leaks.  For a more thorough explanation of what regular car maintenance should look like, check out our article about that here.
One of the systems in your car that has probably been neglected this winter is your air conditioning system.  With the cold winter weather, many of us forget our vehicle is equipped with an air conditioning system.  The reality is, your AC has been working and keeping you safe all winter without you even knowing.  Most modern vehicles are equipped to automatically turn on the air conditioning when you switch the ventilation system to defrost to help dry to air and more quickly clear your windshield.
Even in cold months, it's possible to check your air conditioning and perform any necessary car AC maintenance to ensure proper operation.  Most vehicles equipped with an R-134a air conditioning system are designed to produce air at the vents at a temperature of 34o-40o F.  As long as your outdoor temperature is warmer than that you can test your AC for proper operation using a small thermometer pushed through the vents.
If you discover your air conditioning system isn't operating properly due to a warmer than usual temperature at your vents, then there are a few different possibilities for the problem.  You could have a large problem working in your system like a clogged dryer or expansion valve or a failed compressor, but most likely you simply have a low refrigerant level in your system.
Low refrigerant levels are the most common problems with air conditioning systems in cars today.  This is because the refrigerant used, R-134a, is a relatively volatile gas that can evaporate easily and escape through small spaces.  Also, your air conditioning system is subject to large temperature swings, shocks, and vibrations in your vehicle so it's not unusual for small leaks to develop at connection points for the hoses and pipes in the system.
The easiest way to confirm you've got a low refrigerant level is to use a set of AC gauges to measure the pressures in your system.  Lower than expected low-side pressures are a good indication that your system is low on refrigerant.
If you find this in your vehicle, the good news is you can use Red Angel Stop Leak & Conditioner as part of your regular car maintenance to keep your air conditioning system operating properly.  Red Angel Stop Leak & Conditioner comes in an easy to use aerosol can that you and attach to your air conditioning system and dispense yourself.  Red Angel Aerosol contains a small amount of refrigerant along with a conditioning agent and leak stop that won't harm any components in your system but will seek out and seal any leaks you may have keeping your system working correctly.
For more information about Red Angel Stop Leak & Conditioner, visit our product information page here: Red Angel Stop Leak & Conditioner / Aerosol
You can find Red Angel Stop Leak & Conditioner at any of our partnering auto parts stores like:
AutoZone
Advance Auto Parts
Bennett Auto Supply
CarQuest Auto parts
NAPA Auto Parts
O'Reilly Auto Parts
Pep Boys
Fast Track
Bumper to Bumper Auto Parts Specialists
S&E Quick Lube Distributer
DYK Automotive
Fisher Auto Parts stores
Auto Plus Auto Parts stores
Hovis Auto & Truck Supply stores
Salvo Auto Parts
Advantage Auto Stores
Genuine Auto Parts stores
Bond Auto Parts stores
Tidewater Fleet Supply
Bumper to Bumper Auto Parts
Any Part Auto Parts
Consumer Auto Parts
Pictures Provided By:
regular_car_maintenance.jpg – By 13460889 – Licensed by Getty Images – Original Link
Related Posts